This is the week that we ring in a new year! I always feel super organized and ramped up to start a new exercise plan and diet. My house is super clean and running on a schedule....for about a week. Then I slowly get back into my typical groove.
I think that this year my resolutions will be a little less optimistic than in years past. No point setting my self up for failure! I am certainly not going to make any resolutions about not eating certain foods. That is a sure fire way to gorge on whatever I am trying to cut out.
All normal food here. Here is the first plan of the new year!
Monday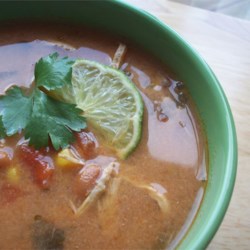 Crock Pot Chicken Tortilla Soup
Tuesday
Ham
Black eye peas
Cornbread
Rice
Wednesday
Sloppy Joe
French Fries
Corn
Thursday
Lime and Coconut Chicken
Rice
Edammame
Friday
Pizza
Weekend
Pork Chops Stuffed with Sausage Dressing
Sweet Potatoes
Broccoli
I am linking up with
Menu Plan Monday
. Go check out all of the meal plans.